"Lussa Gin is as
fresh and wild
as the island
we live on"
Europe's
last wilderness
The Isle of Jura is remote. Really remote. As well as the Lussa Gin Distillery, the island has a well-loved village hall, a community owned and run shop, the Jura Hotel and pub, a whisky distillery, the Antlers café and bistro, a care centre, a petrol pump, GP practice and primary school with one class. And that's it. And quite honestly, that's all we need.
200 of us live on this vast island wilderness. About 30 of those people, including the three of us and our families, live at the north end of Jura which is where the fun and adventure begin.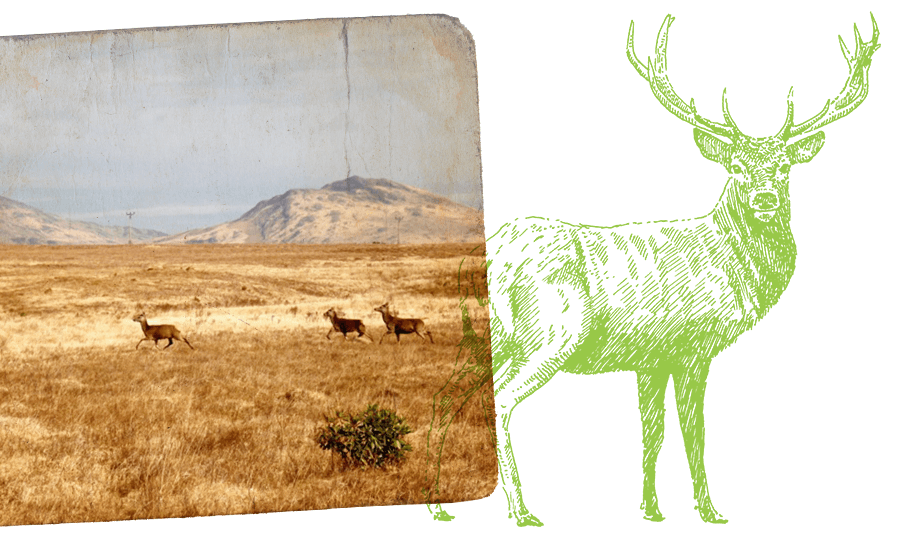 In the beginning...
From Stone Age sites scattered with flints to ancient standing stones – the past is part of our landscape. There are traces of communities long gone and communities gone not that long ago, but Jura has supported us all. Norse and Gaelic place names are still in use today, Mesolothic flints can be found washing up on the beach at Inverlussa and village ruins are scattered through An Carn with their strange cup marks in the stones.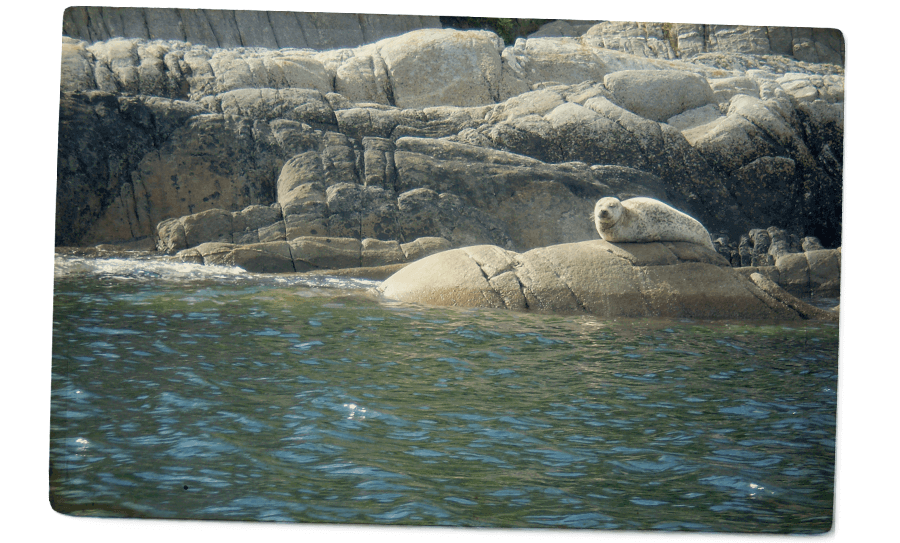 Out here,
isolation is inspiration
Jura can only be reached by ferry (or helicopter if you've got one). But we're nearly 30 miles from that ferry. The word, 'isolated' was made for us. George Orwell, who stayed here while he wrote 1984, described Jura as a most 'un-get-at-able place'.
In Orwell's words 'un-get-at-able' is what keeps our wilderness pristine. Our awe-inspiring mountains, the Paps of Jura, the Corryvreckan Whirlpool – the third largest in the world, the Lussa River and our ubiquitous wildlife – are what makes Jura special. With nearly 6000 red deer, otters, golden eagles, sea eagles, hen harriers, peregrines, owls, bats, adders, grey seals, dolphins, porpoises, marsh fritillaries and orchids, Jura's flora and fauna are abundant. Less spotted are Jura's hares, ospreys and her passing migrations of basking sharks. The west coast is home to wild goats, rumoured to have come from shipwrecked galleons of the Spanish Armada.
Oh and of course, the midge. But it's only the females that bite...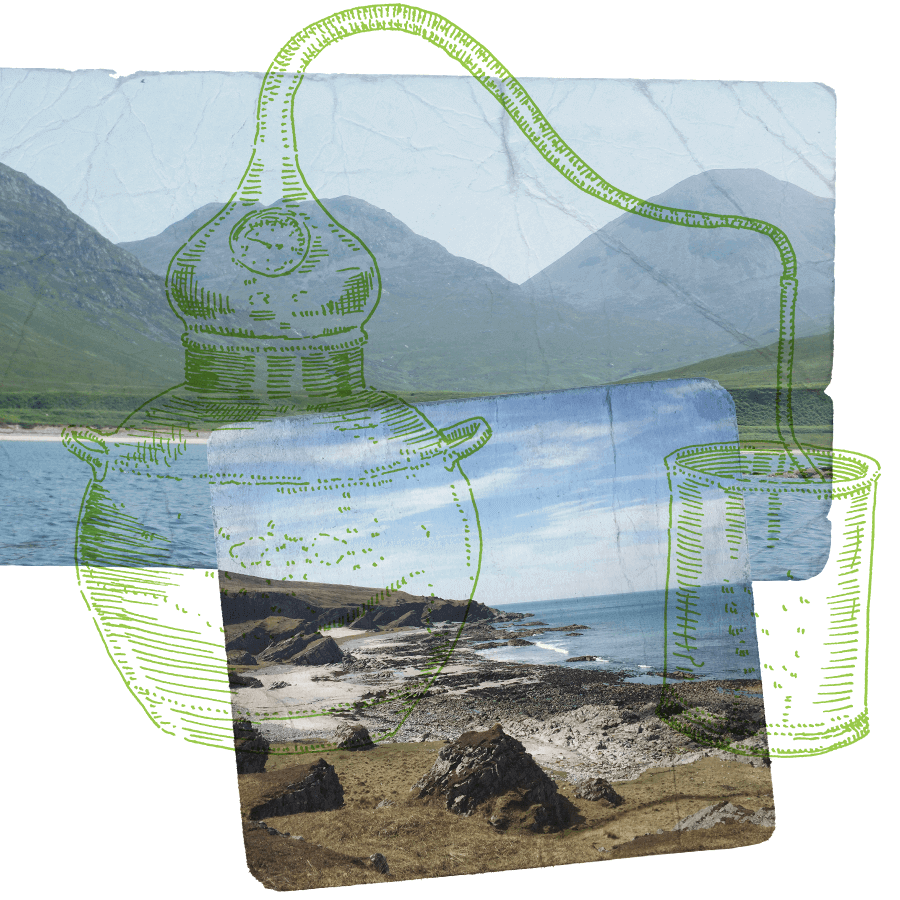 All the ingredients

for an

adventurous gin

Our distillery is situated at Ardlussa, 25 miles along a single track road from the ferry. We have lichens that only grow where the air quality is purest, broadleaved woodlands of national importance and designated protection areas for the eagles and sea creatures.

The distillery is where the magic happens and it starts with the ingredients. Lussa Gin is made using 15 botanicals that we're able to grow on Jura in our maritime temperate climate. We gather them from nearby hills and glens, lochs and bogs, woods and the sea. And we grow them in our gardens. For the ingredients we can't grow enough of, we buy from trusted suppliers while we experiment with increasing the amount we can produce.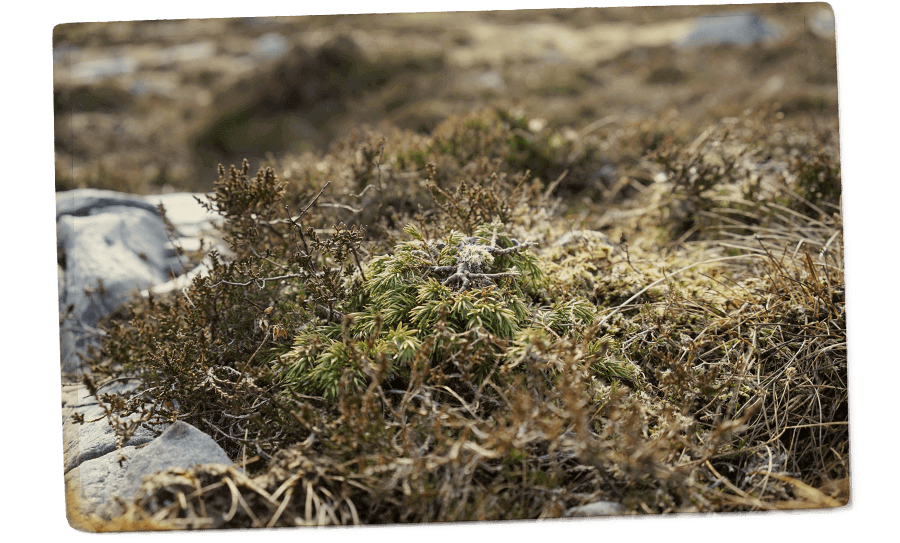 Then we get Jim involved – he's our traditional, Portuguese, handcrafted copper still.
Leaves, needles, cones, seeds and roots are added to the pot along with neutral spirit and soft, crystal clear spring water from the hills of Ardlussa. Flowers and petals go in a basket that sits above the pot; their flavours and aromas are released into the vapour as it passes. We warm the mix using a bain-marie and gently distil the spirit over the course of a day.
The result is
Lussa Gin.

A fresh, zesty, smooth gin with a subtle, aromatic finish.

The spirit of island adventure.