Lussa Gin came about at the start of summer 2015 after a chance conversation. The three of us talked about it, then talked about it some more, then got really excited and went to work.
Chance brought the three of us together in a way that harnessed our interests and our skills but most importantly, our love and awe of Jura. We've been helped along the way by lots of special people but particularly those closest to us in our community.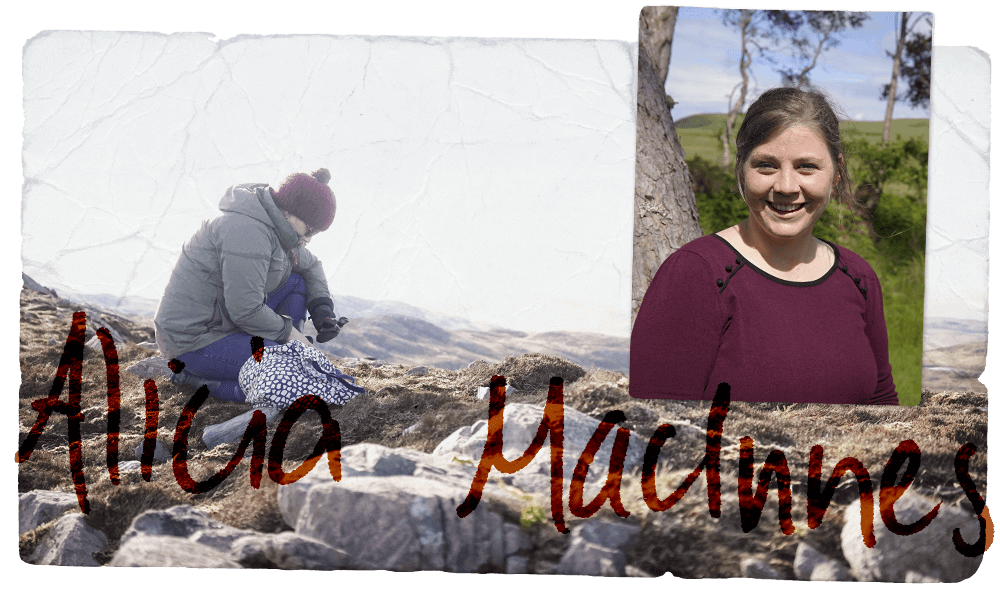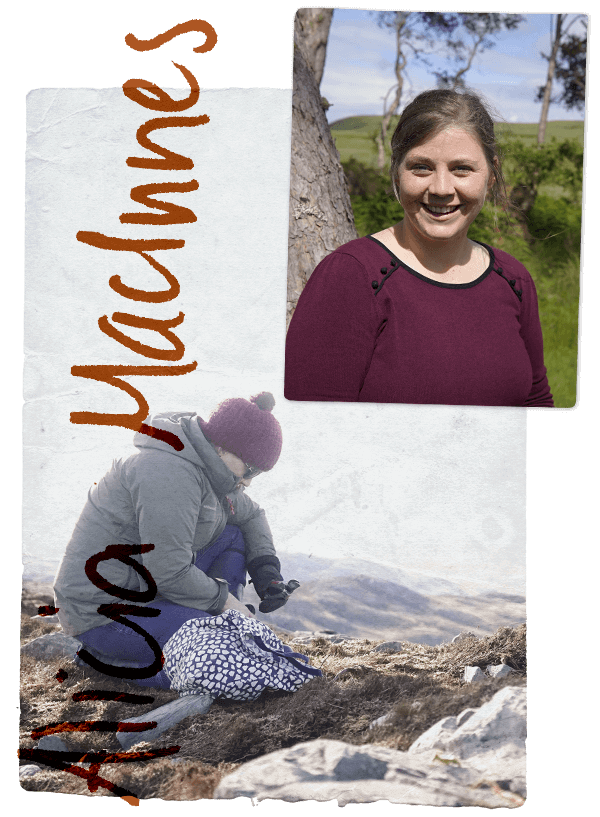 Alicia

MacInnes

Jura inspired me before I even arrived. My guidebook mentioned one road, one pub, 200 people and 6000 deer. Jura was clearly an adventure to be grasped with both hands. My first steps on Jura were sodden with torrential rain, winds whipping up stormy seas and a friendly face to greet me. The adventure had begun.

My relationship with this island is quiet and personal. I have favourite spots here and there, a boulder next to a tree taking in spectacular views of the Lussa and the fishing loch with her cradle of mountains that protect us from the Atlantic; with my dog Ginny alongside me. I have the island rural idyll; views of the ocean; chickens and a vegetable patch; stags and hinds, cows, lambs and horses wandering by; graceful eagles and powerful jets roaming the skies.

Serenity is easily found although life here isn't simple as a visitor might imagine. A resilience learned over time accompanies me through the challenges of living in this remote wilderness. I live life connected to my world, seasons shout their arrival and whisper the work to be done, nature gently and forcefully reminds me that she is always in charge.

Alicia likes her Lussa Gin neat, on the rocks with a sliver of lemon.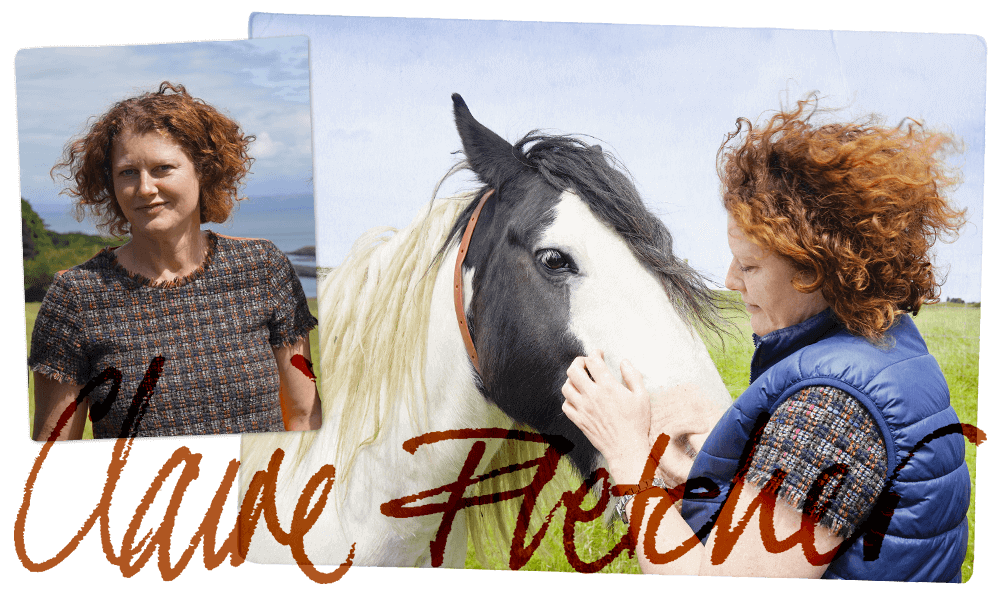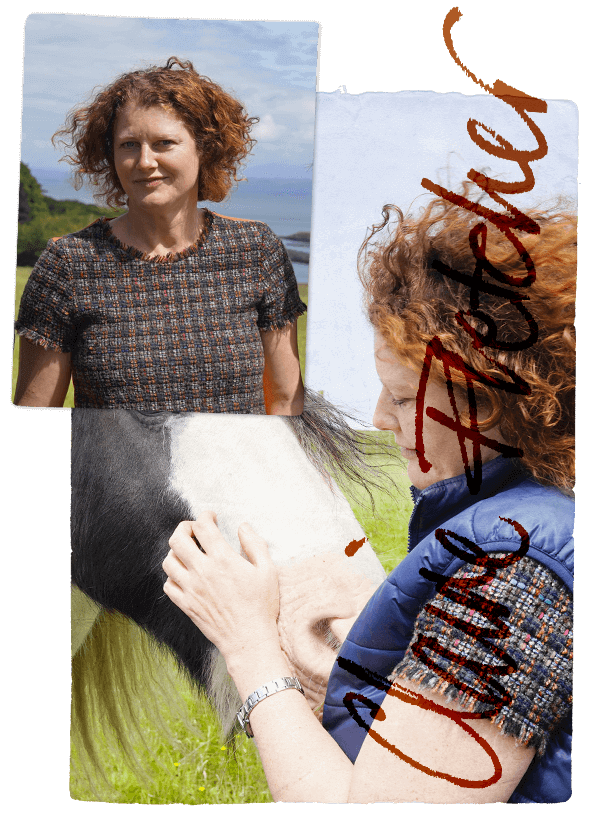 Claire

Fletcher

I first came to Jura as a wired 23 year old on a random weekend to film a video for a band called the KLF. And as much as it was lust at first sight for the local 19 year old who drove me up the island and later became my husband, it was love at first sight for the island. I'd never been to a landscape so raw and wild.

25 years later we have a family and a way of life here on Jura. Along with cows, sheep, pigs, ponies, hens, ducks, bees, dogs, cats and anything else that feels like moving in. I know now that Jura was the jigsaw piece that was missing from my life. I get to be my own boss. I get to be physical. I get to be up close and personal with the natural world. I get to be part of a thriving community. I get to be different.

Don't get me wrong, it's not all roses. There are days the ferries don't run because of the wind and rain, days when we lose animals because of the harsh conditions, when it rains consecutively for over 100 days. It's not for everyone, but life is short and I can't imagine living anywhere else now. Nor would I want to...

Claire likes her Lussa Gin with a sprig of lemon balm, a neutral tonic and ice.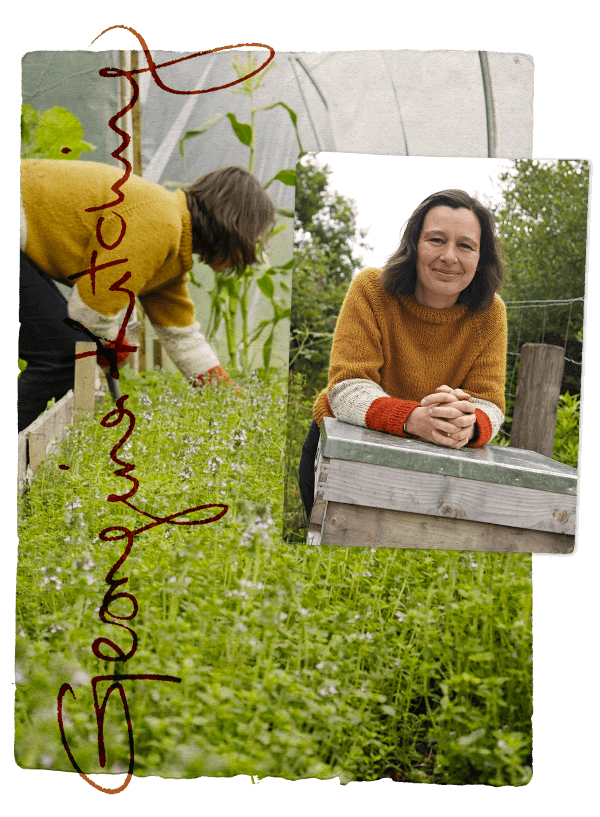 Georgina

Kitching

I love nature, and living on Jura is living IN nature. With eagles and hen harriers, otters and dolphins, fritillaries and orchids, this is the place for me. There is such freedom here. I step outside my door and instantly I am surrounded by beautiful trees and plants. The beach from where I can fish or sail is a few steps away. My chickens run free in the woods, and I have hives of bees in my garden. I can walk up a hill and in a few minutes see for miles – to the mountains of the Highlands, the Paps of Jura and the coast of Ireland.

Here, at sea level the climate is kind and I can grow fruit and vegetables in my garden and tender plants in my polytunnel. The beach provides seaweed to fertilize the soil. Of course, life in the wild isn't without its challenges. We get a lot of weather! Fearsome storms with winds strong enough to snap trees; huge rainfalls which give the river an awesome force; icy winters freezing the hill lochs solid. We learn to fix what has broken… more or less… and appreciate the quiet times.

Georgina likes her Lussa Gin with soda water, ice and a fragrant rose petal, preferably red!